Online Criminology Degrees
Nationally Ranked Programs
Career-Focused Curriculum
Request More Information
To learn more about Carlow University fill out the form below and we'll be in touch soon.
Why Pursue an Online Criminology Degree at Carlow University?
Our online criminal psychology bachelor's program and nationally-ranked forensic accounting graduate programs are ideal for those looking to influence criminal justice, protect against crime and understand the role psychology plays in criminal behavior. Whether you seek to launch your career by earning your criminology bachelor's online or further your education with a master's degree, you'll gain up-to-date skills and knowledge that will help you tackle the challenges and opportunities of the future.
Carlow emphasizes career-readiness and hands-on learning experiences while helping you approach your chosen field of study with an ethical mindset. You'll graduate prepared to positively impact a variety of industries and ready to enter fast-growing fields.
Accreditation and Awards
Carlow's criminology programs are accredited and recognized by leading organizations.
IACBE-Accredited
Yellow Ribbon School
Military Friendly®
No. 7 of 10 Best Master's Degrees in Forensic Accounting by Accounting Degree Review
No. 10 of Best Online Master's in Forensic Accounting Programs by Best College Reviews
Become a compassionate and competent agent of change with a BA in Criminology. Our psychology-focused program prepares students with foundational knowledge of criminal justice and a crucial understanding of criminal behavior criminological assessment.
Duration: Complete your bachelor's degree in 3-4 years.
Total Credits: Earn your degree with 120 credits, including up to 90 transfer credits.
Courses: 100 percent online classes start three times a year.
Promote ethics in business with an online MBA in Fraud and Forensics. Graduate prepared for the national Certified Fraud Examiners exam.
Duration: Complete your MBA in 15-24 months.
Total Credits: Earn your MBA in 36 credits.
Courses: 100 percent online classes start three times a year.
Learn to investigate and prevent financial crime with an online MS in Fraud and Forensics in this nationally-ranked, IACBE-accredited program. Graduate prepared for the national CFE exam and qualified for the 150 hours required to take the CPA exam.
Duration: Complete your master's degree in 12-14 months.
Total Credits: Earn your degree with 30 credits.
Courses: 100 percent online classes start three times a year.
Advance Your
Career
$86,030
per year
The mean yearly salary of detectives and criminal investigators in 2021 according to the Bureau of Labor Statistics.
40,600
New Jobs
The Bureau of Labor Statistics predicts that the growth in the demand for police and detectives will result in more than 40,000 new jobs in those roles between 2021 and 2031.
Succeed with a Unique Online Experience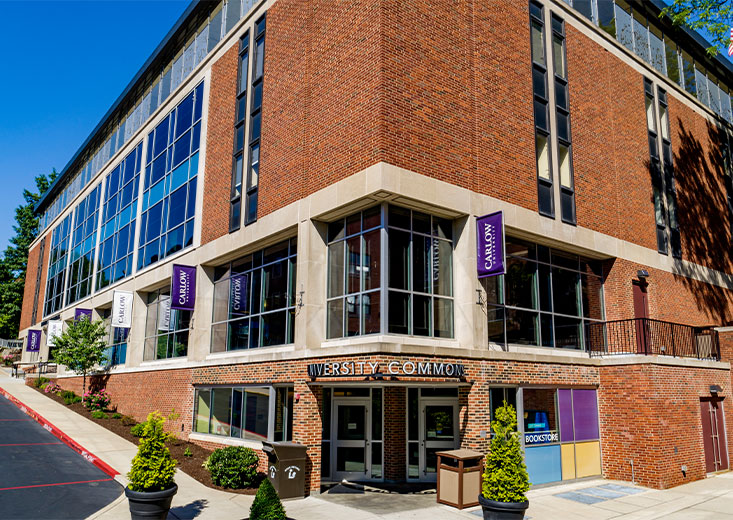 About Carlow University
Carlow is a private, co-educational, Catholic university located in the heart of Pittsburgh, Pennsylvania. Founded by the Sisters of Mercy in 1929, Carlow's curricula and partnerships reflect its strong commitment to social justice, along with ethical, forward-thinking and responsible leadership and service to the community. Rooted in its Catholic identity and embodying the heritage and values of the Sisters of Mercy, Carlow offers educational opportunities for a diverse community of learners. Transformational coursework and experiences at Carlow empower learners to excel in their chosen work as compassionate, responsible leaders in the creation of a just and merciful world.