Doctor of Nursing Practice
Three Start Dates Per Year
Request more information
To learn more about how Carlow University can help you accomplish your goals, fill out the form below and we'll be in touch soon.
All fields required
Graduate in as Few as 15 Months
Quick Facts
28-36
Total Credits

Includes transfer credits, scholarly project and clinical hours.
8
Nursing Core Courses

Study relevant nursing topics in our core curriculum.
16-Week
Course Length

Complete your degree faster with 8-week classes.
Become a Doctor of Nursing Practice and Transform Healthcare
Patient outcomes are better when highly educated and compassionate nurses have a seat at the table. Transitioning from an MSN to DNP online offers a unique opportunity to move into leadership roles without disrupting your current nursing career.
Our interactive online classroom with synchronous components allows you to earn your DNP in as few as 15 months and begin making a difference in the lives of patients and nurses. Perfect for working professionals, our online, low residency program provides flexibility and convenience. Our rigorous curriculum prepares you to lead the profession ethically through opportunities and challenges and toward a just and merciful world.
The support of our faculty will help you change nursing practice to impact healthcare, even before you graduate. Through clinical hours and a scholarly project, you will build upon online classroom hours and impact nursing practice as you learn. Carlow offers students various forms of tuition assistance through employer partnerships, a nursing faculty loan forgiveness program and graduate assistant positions.
Graduate from the CCNE-accredited program empowered to advocate for patients and the nursing profession competently and compassionately.
Advance Your Nursing Career
26%
Growth
According to the Bureau of Labor Statistics, the employment of advanced practice nurses is expected to grow much faster than the average.
62,000
New Jobs
The Bureau of Labor Statistics predicts thousands of advanced practice nursing positions will be added between 2018 and 2028.
Core Courses
| Course | Credit Hours |
| --- | --- |
| Scholarly Writing | 3 Credit Hours |
| Evidence-Based Quality Improvement | 3 Credit Hours |
| Transforming Systems-Big Data, Innovation and Quality | 3 Credit Hours |
| Critical Appraisal of Evidence | 3 Credit Hours |
| Population Health | 3 Credit Hours |
| Transitioning Evidence into Practice | 3 Credit Hours |
| Interdisciplinary Leadership for Practice Excellence | 3 Credit Hours |
| Executive Decision Making in Complex Systems: Policy, Politics and Advocacy | 3 Credit Hours |
Succeed with a Unique Online Experience
Flexibility
Carlow's online programs offer the ultimate flexibility through courses that fit into your schedule, coursework that aligns with your passions and concentrations tailored to your interests.
Expert Faculty
Each instructor brings diverse experiences to the classroom to provide a more well-rounded, multi-perspective, ethical view of the world.
Support
Our diverse community welcomes and empowers. We work to help you achieve success on your terms through a tight-knit community of accessible instructors and fellow students who support their peers.
Student Resources
Our helpful advisers work hard to help you navigate our transfer credit policies and financial aid. We also offer technology support and the Center for Academic Achievement, which offers academic coaches and other resources to enable your success.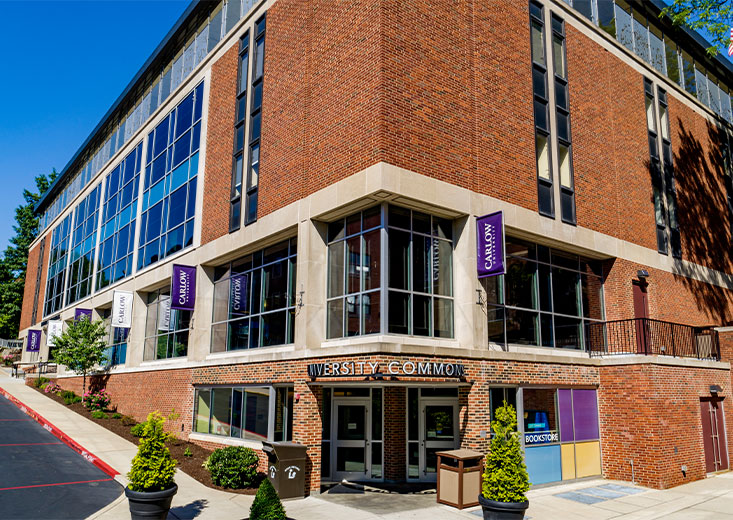 About Carlow University
Carlow is a private, co-educational, Catholic university located in the heart of Pittsburgh, Pennsylvania. Founded by the Sisters of Mercy in 1929, Carlow's curricula and partnerships reflect its strong commitment to social justice, along with ethical, forward-thinking and responsible leadership and service to the community. Rooted in its Catholic identity and embodying the heritage and values of the Sisters of Mercy, Carlow offers educational opportunities for a diverse community of learners. Transformational coursework and experiences at Carlow empower learners to excel in their chosen work as compassionate, responsible leaders in the creation of a just and merciful world.