Bachelor of Science in Healthcare Management
Three Start Dates Per Year
Request more information
To learn more about how Carlow University can help you accomplish your goals, fill out the form below and we'll be in touch soon.
All fields required
Career-Focused Curriculum
Quick Facts
120
Total Credits

Includes up to 90 transfer credits, general education and core courses.
17-19
Healthcare Management Core Courses

Study healthcare management topics in our core curriculum.
8-Week
Course Length

Complete your degree faster with 8-week classes.
Gain the Comprehensive Business and Healthcare Skills Needed to Jumpstart Your Career
Carlow University's 100 percent online healthcare management degree is ideal whether you're looking to start or advance your career in non-clinical healthcare leadership. Carlow's focus on creating well-rounded professionals with a firm knowledge base in both business and the inner workings of the healthcare industry ensures you'll be positioned for success upon graduation from this dynamic program. Our degree emphasizes career readiness and hands-on learning experiences while helping you approach your chosen field of study with an ethical mindset.
The flexible program allows you to earn a minor in an area of interest that complements the healthcare management degree to help further diversify your career opportunities, which include program manager, healthcare administrator and business associate. When you graduate with your healthcare management bachelor's degree, you'll be ready to respond to the changing needs of patients and providers, communicate in a group setting confidently, identify laws and regulations applicable to your organization and more.
Earning a Healthcare Management Degree Online Opens Doors
32%
Growth
The Bureau of Labor Statistics predicts 133,200 medical and healthcare management jobs will be added to the field between 2019 and 2029.
$100,980
Annually
The national average salary for a director of respiratory therapy in the United States in 2019, according to the Bureau of Labor Statistics.
Sampling of Healthcare Management Courses
| Course | Credit Hours |
| --- | --- |
| Intro to Management in Health Sciences | 3 Credit Hours |
| Concepts in Healthcare Finance | 3 Credit Hours |
| Financial Management for Healthcare Professionals | 3 Credit Hours |
| Medical Terminology | 2 Credit Hours |
| Intro to Healthcare Delivery Systems | 3 Credit Hours |
| Contemporary Healthcare Communications | 3 Credit Hours |
| Ethics for Healthcare Managers | 3 Credit Hours |
| Electronic Health Records | 3 Credit Hours |
Succeed with a Unique Online Experience
Flexibility
Carlow's online programs offer the ultimate flexibility through courses that fit into your schedule, coursework that aligns with your passions and concentrations tailored to your interests.
Expert Faculty
Each instructor brings diverse experiences to the classroom to provide a more well-rounded, multi-perspective, ethical view of the world.
Support
Our diverse community welcomes and empowers. We work to help you achieve success on your terms through a tight-knit community of accessible instructors and fellow students who support their peers.
Student Resources
Our helpful advisers work hard to help you navigate our transfer credit policies and financial aid. We also offer technology support and the Center for Academic Achievement, which offers academic coaches and other resources to enable your success.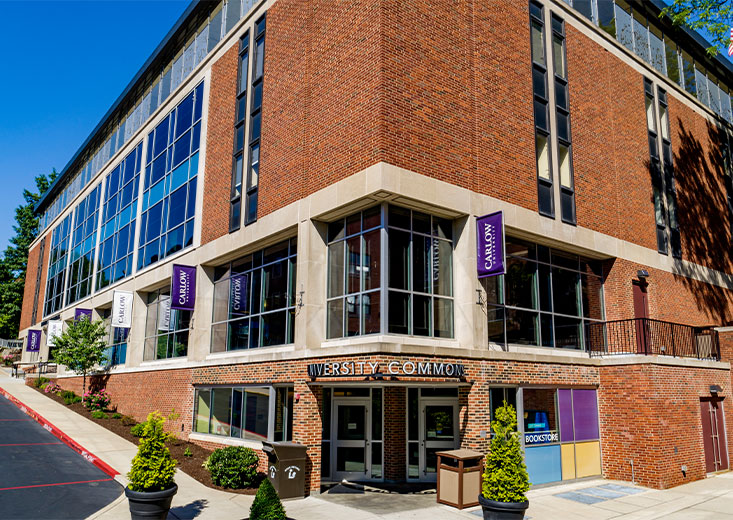 About Carlow University
Carlow is a private, co-educational, Catholic university located in the heart of Pittsburgh, Pennsylvania. Founded by the Sisters of Mercy in 1929, Carlow's curricula and partnerships reflect its strong commitment to social justice, along with ethical, forward-thinking and responsible leadership and service to the community. Rooted in its Catholic identity and embodying the heritage and values of the Sisters of Mercy, Carlow offers educational opportunities for a diverse community of learners. Transformational coursework and experiences at Carlow empower learners to excel in their chosen work as compassionate, responsible leaders in the creation of a just and merciful world.