Bachelor of Arts in Psychology
Three Start Dates Per Year
Generous Transfer Credits
Request More Information
To learn more about Carlow University fill out the form below and we'll be in touch soon.
Quick Facts
120
Total Credits

Includes up to 90 transfer credits, general education and core courses.
17
Core Courses

Study psychology topics in our core curriculum, consisting of an average of 17 classes.
8-Week
Course Length

Complete your degree faster with 8-week classes.
Gain Dynamic, In-Demand Skills with an Online Psychology Degree
Pursue an impactful career or further study with Carlow University's online Bachelor of Arts in Psychology program. Carlow's psychology degree provides a broad-based education that can lead to a variety of career paths, as well as prepare you for graduate programs. Through our robust curriculum taught by caring, expert faculty, you will learn critical thinking skills, scientific literacy, statistics and social awareness.
Our small class sizes allow you the opportunity for personalized attention and access to faculty as you carve your career path. Our unique Designing Your Life Courses help you explore career options. If you're interested in pursuing graduate study, you can take up to 12 credits of graduate-level coursework at the bachelor's-level tuition rate to fast-track into graduate programs in psychology and fraud and forensics with Carlow. With up to 90 transfer credits accepted, you can graduate in as little as one year from the online bachelor's degree program, prepared for a world of opportunity.
Launch Your Psychology Career
17%
Growth
The Bureau of Labor Statistics predicts the demand for social and community service managers will grow faster than average by 2029.
29,800
The BLS states that the rapid growth in the social and community service management field will result in almost 30,000 new jobs between 2019 and 2029.
Sampling of Psychology Courses
| Course | Credit Hours |
| --- | --- |
| Lifespan Development | 3 Credit Hours |
| Personality Theory | 3 Credit Hours |
| Cognitive Psychology | 3 Credit Hours |
| Social Psychology | 3 Credit Hours |
| Designing Your Life II: Career Formation | 1 Credit Hour |
| Knowledge of Psychology | 1 Credit Hour |
| Elementary Statistics and Lab | 4 Credit Hours |
| Research Methods for Social Sciences | 3 Credit Hours |
Succeed with a Unique Online Experience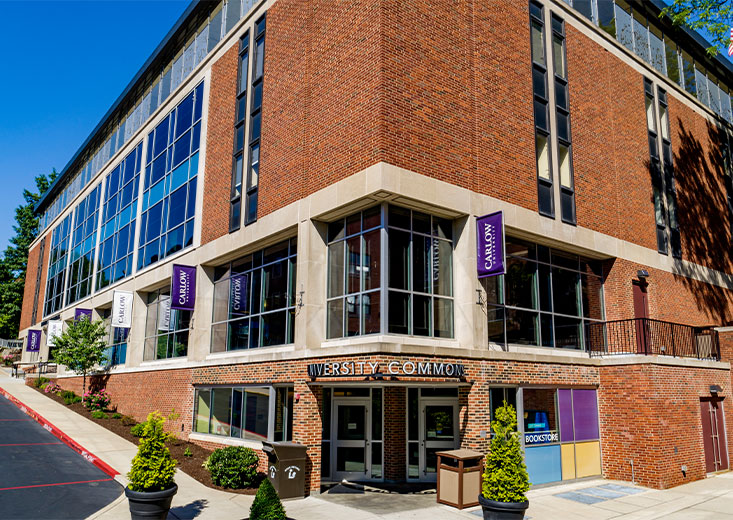 About Carlow University
Carlow is a private, co-educational, Catholic university located in the heart of Pittsburgh, Pennsylvania. Founded by the Sisters of Mercy in 1929, Carlow's curricula and partnerships reflect its strong commitment to social justice, along with ethical, forward-thinking and responsible leadership and service to the community. Rooted in its Catholic identity and embodying the heritage and values of the Sisters of Mercy, Carlow offers educational opportunities for a diverse community of learners. Transformational coursework and experiences at Carlow empower learners to excel in their chosen work as compassionate, responsible leaders in the creation of a just and merciful world.